Whether they're doing the Cupid Shuffle during lunch break at debate tournaments or competing in funky hats, for the students of Chicago's nationally renowned Lane Tech College Prep debate program, the key to success is simple: "be yourself."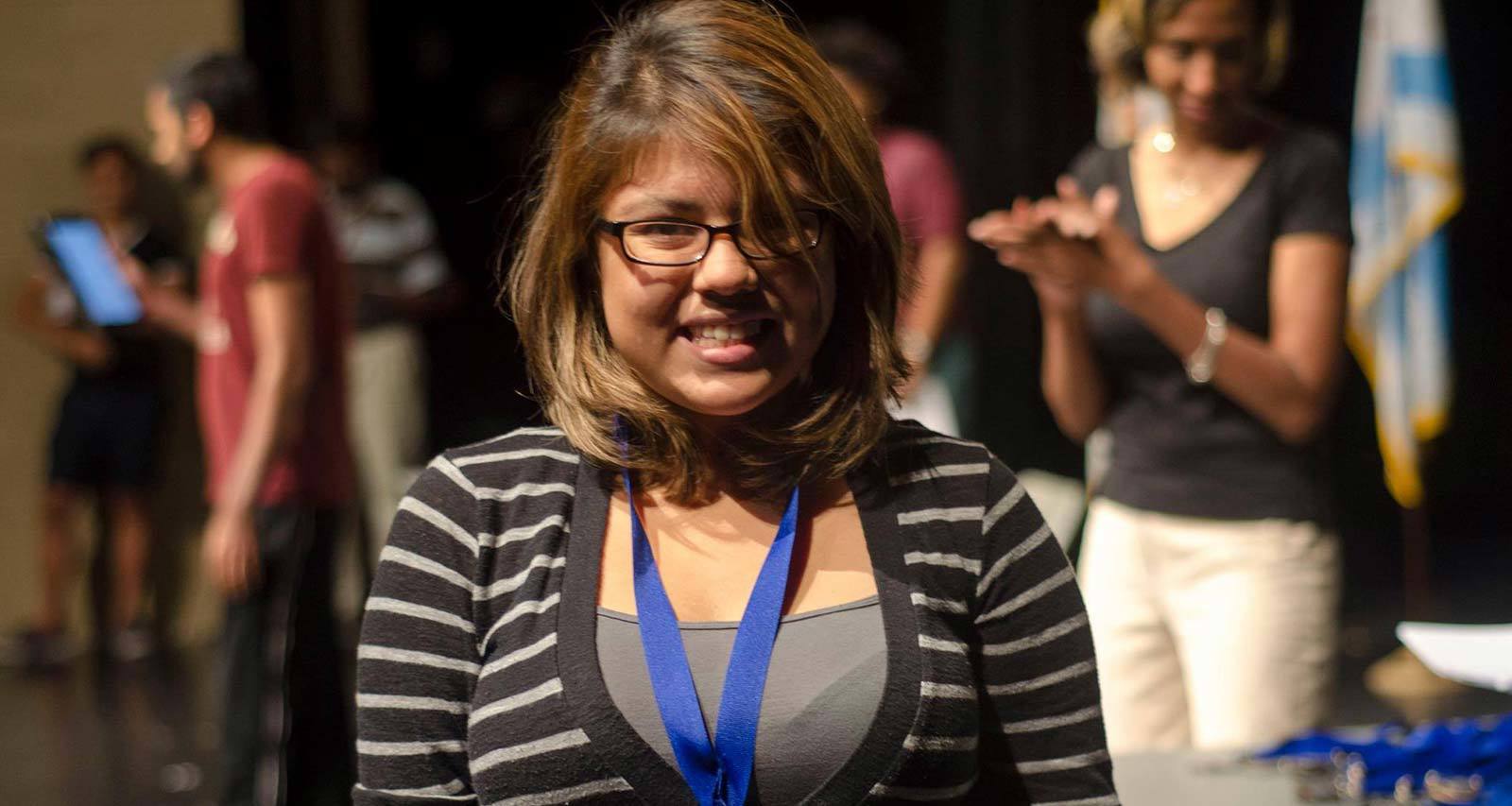 At Lane Tech College Prep High School on the north side of Chicago, Illinois, members of the nationally-ranked speech and debate team always look forward to the end of the school day – not so they can go home, but so they can go to practice.
Coach Andy Fine likens the program's practice space to a "magic bubble" that feels less like a high school classroom and more like a second home to the debaters.
Fine, who has been leading Lane Tech's debate team for the past four years, encourages his debaters to "do your thing" and "be who you are." And even in such a grueling activity that demands intense levels of focus and intellectual rigor, Fine says the kids embrace the message.
"Every year, I feel like the team gets better," Fine reflects. "I tell my students to be their own ice cream flavor, and every teacher and every coach is their own ice cream flavor. Everyone has upheld the tradition of Lane Tech school champions."
It appears their approach is working. In addition to their abundance of awards and decorations at the local and state level, such as qualifying as the best team in the Chicago Debate League with two debaters earning a spot on the varsity all-state debate team, Lane Tech won the 2018 Urban Debate National Championship in Washington D.C.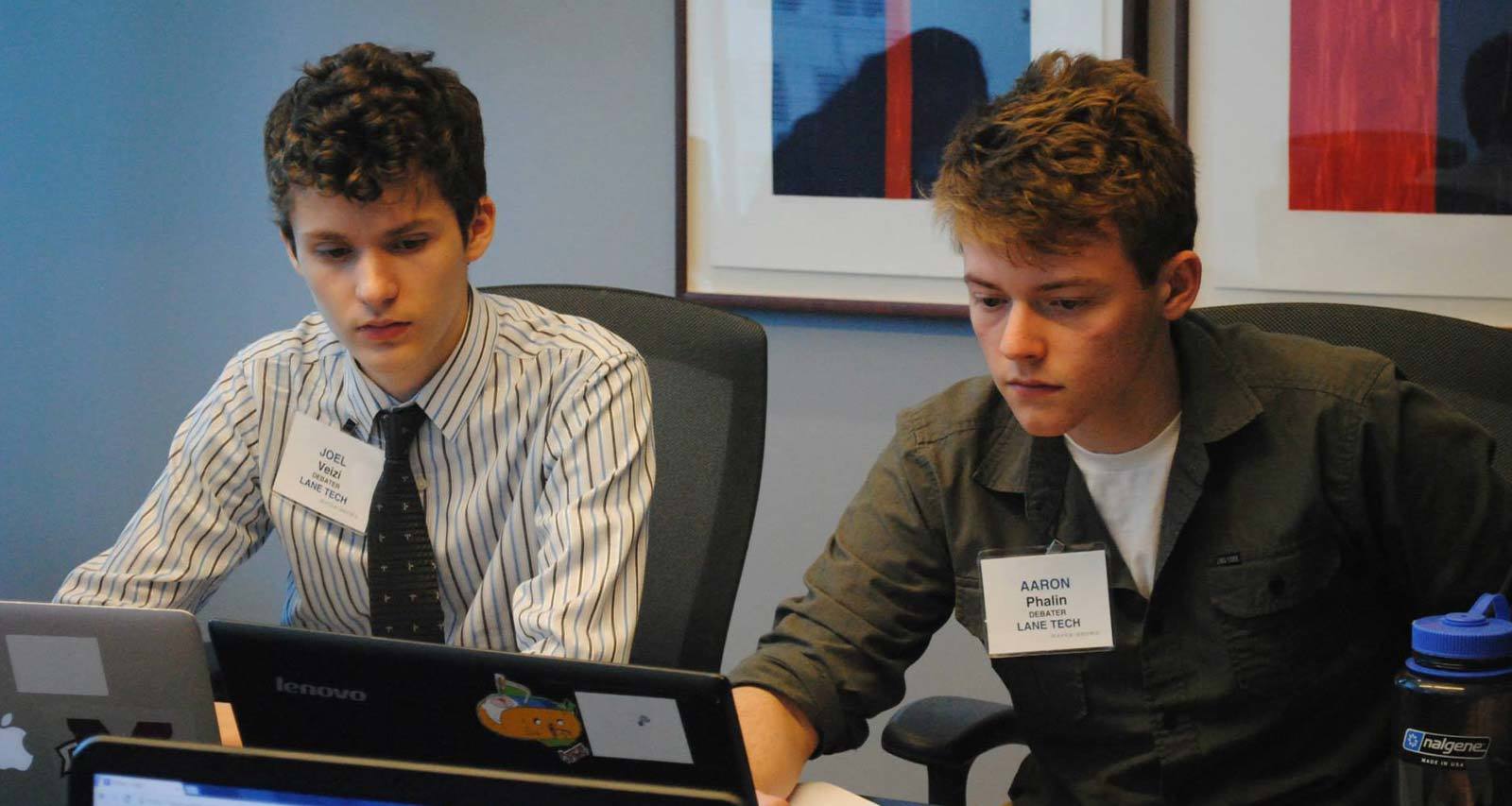 Each spring, the Lane Tech Debate team holds tryouts for 10 highly coveted spots in its intensive debate program. During tryouts, which have a 10% acceptance rate, Fine identifies the students who "think louder" and "analyze deeper."
After making the team, the new recruits begin an intensive three-year program the following school year. The program functions as a rigorous, honors-level academic elective which allows the team to meet daily to research, write, and practice.
In class, Fine teaches the debaters new skills each year that build upon the last. This allows the debaters, who start out as novices, to continually progress in an activity that's notoriously demanding. From novice, the debaters move up to JV and eventually make varsity their junior or senior year.
Despite his commitment to academics, Fine, a self-proclaimed "nerd," revealed that school wasn't always enjoyable for him. He grew up in the Chicago suburbs and attended schools that lacked diversity. Starting in kindergarten and continuing through high school, Fine was bullied for being gay.
Despite the unsafe school environment, Fine was still able to find a love of teaching through leadership roles he held while working at summer camps.
"I got into teaching because I've been a lifelong camper and camp cohort," Fine said. "I've been a camp counselor, I've been a unit leader, and I've been an administrator at camp in the summer which has taught me all about community and family and having a place to belong."
Drawing on his own school experiences and what he learned at camp, Fine set out to reinvent the classroom environment he experienced as a kid, knowing firsthand, as he puts it, that "learning can't take place in the aperture of anxiety."
Fine continued: "It's all about celebrating diversity and inclusion and creating a hate-free zone, a magic bubble where they can come and feel like they have a space."
Fine calls his classroom "a home within a huge school," a theme that is echoed by his students.
Alessandro Vargas, one of Fine's debaters, told Lane Tech's school paper, The Warrior, "I've never felt more at home in a school. I didn't have a good elementary school experience, so being able to find that home here in that debate room is really important to me."
A previous student of Fine's, Daisy Saavedra, recalled that his class was the favorite part of her school day. She told The Warrior: "He encourages you to be yourself and to not change for anyone."
When it comes to debate itself, Fine continues to encourage his students to pursue their own interests and individuality. He leaves it up to his debaters to choose their debate topic.
"One team might be running a rate affirmative and another one might be running a queer affirmative. Or we have a Latina affirmative, or a model minority affirmative," Fine explained.
Throughout the year, the teams work autonomously to develop their research and create their own arguments.
"They just continue to gain expertise and practice and have fun and it's exciting. It's a really awesome program and the kids become better readers, writers, thinkers and people," Fine said.
Under Pressure
Despite the Lane Tech students' love of debate, debate tournaments can still be stressful environments. Fine recognizes the pressure of competition and says he knows that his main role is that of support.
"There are kids who are drawn to debate who are competitive, aggressive, and super hard on themselves," he explained. "I'm there to be their cheerleader, keep them organized, and of course give them advice and help them with debate."
Lane Tech knows how to ease the tension at tournaments. They often arrive at competitions in goofy outfits, armed with speakers blasting their favorite music.
Despite its unorthodox approach – or more likely because of it – Lane Tech Debate is an exceptionally decorated program. But even with its impressive record, the Lane Tech students know that "winning is having fun." Fine is more concerned that his debaters are getting a rewarding, educational experience than with the reputation of his team.
"I don't care if you lose every round as long as you're doing your best and don't measure your success by external forces," he explained. "We're intrinsically interested in becoming really smart about any of these topics and that is really all that matters in the grand scheme of things."
Unfortunately, these experiences come at a financial cost, and many of the suburban schools Lane Tech competes against have deeper pockets than it does. To continue competing on a national level, Lane Tech Debate needs to fundraise.
Fine aims to provide his debaters with the time and resources necessary to be successful, which is why he turned to online fundraising service Snap! Raise.
"I think that Snap! Raise is the most efficient and most effective way of raising funds for a group. I love the fact that [our Snap! Raise campaign director] Alyssa [Jurcak] gets us signed up in person," Fine said. "It's really easy to make sure every kid signs up."
Lane Tech Debate wrapped its second fundraiser with Snap! Raise in December 2018. For its 2018-2019 season, Lane Tech raised over $10,000 with Snap! Raise, exceeding its goal of $6,000. With these funds, Fine can send his new recruits to two summer debate camps and cover travel costs and tournament fees for all of his students.
In addition to being an effective way to raise money, Fine also appreciates Snap! Raise's user-friendly platform, which he says makes it extremely easy to share fundraiser information online.
"I feel confident, and so do the kids, in telling people, 'Hey, this matters so much to me and I know it's your hard-earned money, but it's worth it,'" he said.
With impact that extends far beyond the classroom, it's clear just how 'worth it' it is.
In addition to the critical thinking and argumentation skills Fine helps his debaters hone, he says he is continually moved by the legacy his students leave on their community.
"Of any leadership position I've ever held, I'm most proud to be the head of the Lane Tech debate team because these kids inspire me every single day by creating positive change in the world."
Lane Tech debate's dedication to diversity and inclusion guides the debaters to seek the truth, learn more, and use their platform to effect change.
Although their argumentation skills may help earn them the trophies, it is their values that make Lane Tech stand out from the crowd.
At Lane Tech debate, "People are going to stand up for what's right," Fine said.
With the skills and experiences gained from their time in Lane Tech Debate, it's clear that these students will be standing up for what's right for the rest of their lives.
Lane Tech Debate uses Snap! Raise to help sustain its nationally renowned program. Take your fundraising to the next level with Snap! Raise!
Start a Fundraiser