SEPTEMBER 10, 2019 | SEATTLE, WA
On an overcast September day, a group of coaches, educators, researchers, business leaders, government officials, and community members gathered at Steve Cox Memorial Park in South Seattle to discuss troubling participation trends in youth athletics and activities in King County.
According to a new report published by the University of Washington Center for Leadership in Athletics, in partnership with the Aspen Institute Sports & Society Program, kids in the Seattle-King County region are not getting enough active play.
Only 19% of youth in King County meet the Centers for Disease Control and Prevention recommendation of 60 minutes of daily physical activity, the report concludes, falling below the national average.
When accounting for factors like gender, race, language, affluence, and ability, the disparity is even more alarming.
While 22% of boys meet the CDC benchmarks for physical activity, only 16% of girls do so. Youth of color are less likely to participate in organized physical activity than their white peers. Participation barriers adversely affect immigrant communities and families that don't speak English at home.

Read the full State of Play: Seattle-King County report here
Dr. Julie McCleery, the primary investigator on the report, articulated the urgency of the problem to the crowd at Steve Cox Memorial Park:
"The benefits of physical activity are so well founded and reach into all aspects of a child's life, including improved cognition and mental health, school attendance, and even better grades," McCleery said.
"Physical activity, along with social and emotional wellbeing, is a cornerstone of healthy, whole-child development, and merits the community's prioritization and investment."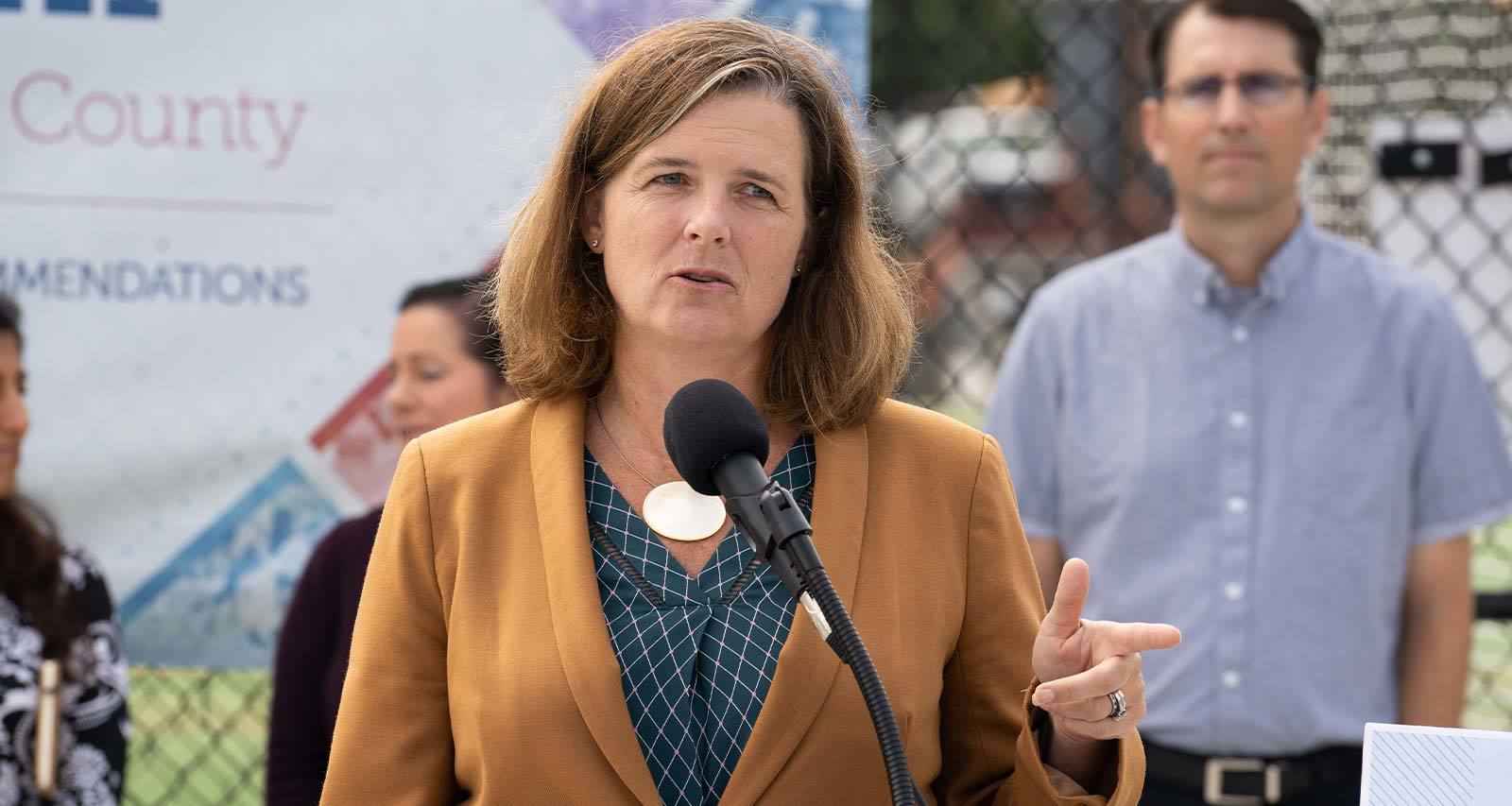 In creating the report, Dr. McCleery and her team surveyed over 1,500 youth, parents, and coaches across King County. Through interviews and focus groups, researchers identified a host of issues contributing to declining participation in youth athletics and physical activity, including rising costs of "pay to play" sports and limited access to public parks and green spaces.
The State of Play: Seattle-King County report is based on Aspen Institute's State of Play project that examines participation trends in youth athletics across the country.
Overall, King County received a "D" grade in terms of getting kids active.
For those that work in the fields of education, youth sports, or healthcare, the findings of the report were concerning, if not altogether surprising.
Though Seattle is known for its affluence, proximity to nature, and outdoors-oriented culture, for many residents the reality is not so rosy.
King County is among the most demographically and geographically diverse counties in the nation. Much of this diversity is relegated to certain pockets of the county including South Seattle and southwest King County, where Steve Cox Memorial Park is located.
The report exposes that the current youth sports system largely fails to serve lower-income communities.
Participation costs continue to rise and have become prohibitive for many families. Kids of color spend less time at public parks than their white peers, due in part to limited transportation options.

Read the King County State of Play press release here
Though play inequity in King County is severe, Dr. McCleery believes there's reason for hope. "The report was built for collective action," she explained.
That's why a laundry list of local businesses, non-profits, professional sports franchises, and government entities have rallied together through the newly founded King County Play Equity Coalition, created to promote equitable access to participation and play.
In addition to Dr. McCleery, speakers from the coalition at the Steve Cox Memorial Park event included King County Chief Operating Officer Casey Sixkiller, Washington State Representative Steve Bergquist, Highline Public Schools Superintendent Dr. Susan Enfield, pediatrician Dr. Pooja Tandon of Seattle Children's Hospital, former Seattle Seahawks player Cooper Helfet on behalf of his non-profit The Nature Project, Seattle Mariners EVP & General Counsel Fred Rivera, University of Washington Huskies Football legend Sonny Sixkiller, and Congolese Integration Network Executive Director Floribert Mubalama.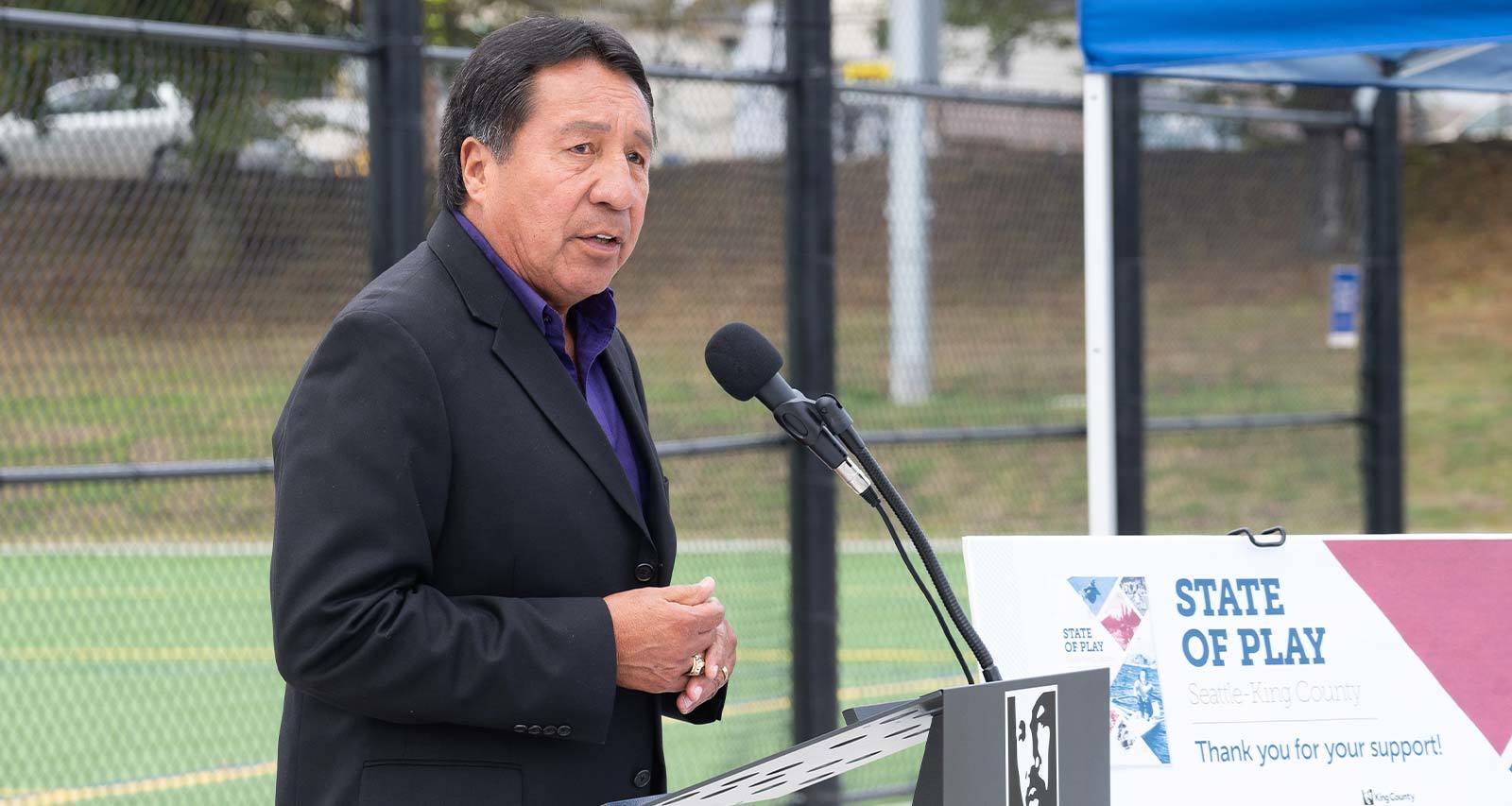 Though each coalition member offered a different perspective on the state of play in King County, the conclusion was the same: the problem is serious and the time to act is now.
"The report is wonderful—it's great to have data on your side," Superintendent Enfield told the crowd. "But the reality now is that it's going to take some collective will and action to have an impact."
The report offers a variety of recommendations for addressing play and participation inequity in King County, from empowering schools to be a hub for physical activity to improving access to parks and playfields.

Physical activity is a cornerstone of healthy, whole-child development, and merits the community's prioritization and investment.

- Dr. Julie McCleery, University of Washington Center for Leadership in Athletics
Local government has already begun to take critical steps toward achieving these goals. Led by Executive Dow Constantine, King County recently instituted a program called Trailhead Direct, a metro service to trailheads throughout the greater Seattle area. King County voters also renewed a park levy that allocates $110 million for youth activities and programs.
"The bottom line is to have fun," Sonny Sixkiller said. "King County is making it available for all kids to have fun."
The findings of the report are clear: kids need to play. Moreover, they like to play. The State of Play: Seattle-King County report is a call for the King County community to channel its collective resources toward ensuring kids are playing, learning, and achieving more.
Of course, the collective resources of the Seattle area rival those of anywhere in the United States; financial backers of the report included the Seattle Mariners, Bezos Family Foundation, Seattle Children's Hospital, YMCA of Greater Seattle, Kaiser Permanente, and evo.
"If anyone in the nation can reverse these trends that we're seeing across the country in youth sports, it's going to be King County," Dr. McCleery said.
"When the King County Play Equity Coalition comes together, I know it's going to be stronger than the sum of its parts and that the results will be a win for the youth in King County."
To read the full State of Play: Seattle-King County report, click here
To get involved in the King County Play Equity Coalition, click here
To learn about how Snap! Raise is committed to combatting the funding crisis in youth activities, click here