When your program rallies around a single goal, great things happen.

Same goes for fundraising activities. Participant engagement is key to the success of a Snap! Raise campaign, and today we're making it even easier to track fundraiser participation and communicate with participants who need a reminder.

Meet the all-new Program Dashboard, your home for fundraiser tracking and participant engagement.
With your Program Dashboard, you can:
Monitor fundraiser progress – for both funds raised and participation percentage
Easily communicate with participants without sharing their personal contact info
Boost participation and raise more by sending custom reminder messages with a single click
Today, your Program Dashboard will help you monitor fundraiser activity and outreach performance, while allowing you to visualize how much more you could raise by increasing participation. In the future, this dashboard view will include additional resources and serve as a hub for all of your program's Snap! Raise fundraising efforts.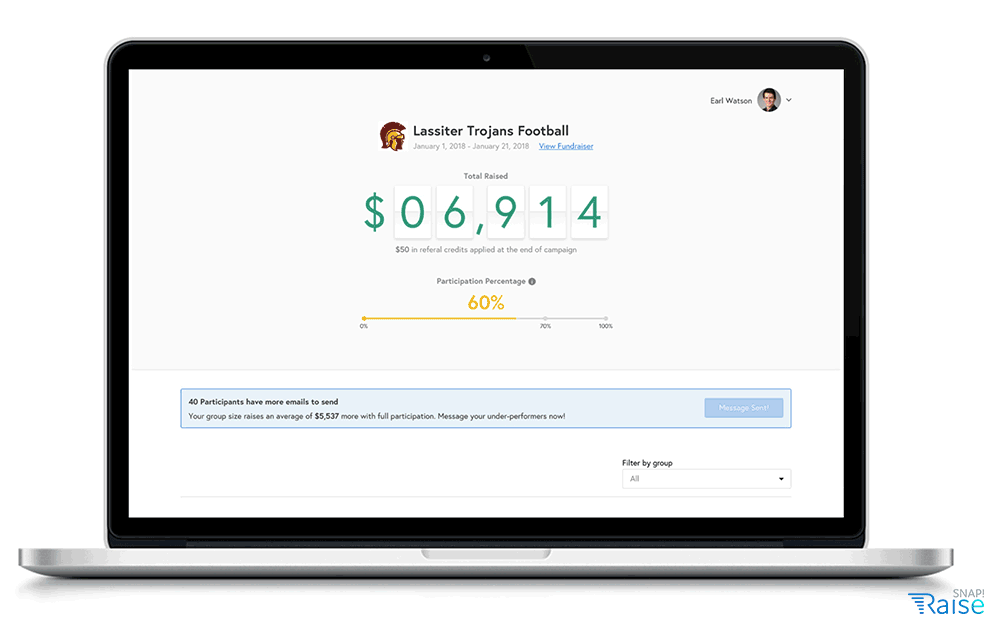 Participant outreach translates directly into dollars raised for your program. Hit your participation benchmarks and raise more – it's as simple as that. For every 10% increase in participation, the average program using Snap! Raise raises an additional $750.
The Program Dashboard is designed with one goal in mind: to make it even easier to boost participation and earn those extra dollars for your program.
What else can you do with your Program Dashboard?
Customize messages to participants, including high-fives and thank-yous
Find participant Join Codes
Filter participants by groups
Make sure participants have a profile photo
Contact your campaign director
The Program Dashboard is just the newest tool from Snap! Raise to help you raise more and keep more than ever before.
Stay tuned for more resources on the way to help you raise you more with less effort. Your Program Dashboard is just the start!
If you are new to Snap! Raise, click here to speak with one of our fundraising specialists about the needs of your program.
Let's talk