Humble and Hungry is a new podcast that celebrates the people of Snap! Raise, a Seattle-based online fundraising company that has helped raise hundreds of millions for youth activities across the United States since 2014. The podcast shares the stories of team members whose dedication and passion has driven the success of Snap! Raise and empowered the communities they serve.
"I actually seek out failure," says Snap! Raise market development manager Daniel Hack. "I try and find things that I can fail at because if I only do things that I'm good at, then I'm not growing."
For a man who says he seeks out failure, Hack has certainly bumped into some success along the way.
Since he started at Snap! Raise in 2014 as the company's very first outside rep, Hack has helped schools in the San Diego area raise over $10 million, establishing himself as the gold standard for the now 250 market development managers across the country.
A new Snap! Raise podcast aims to share the stories of dynamic, driven individuals like Hack and uncover what exactly makes these passionate people tick.
Humble and Hungry is a window into the lives of the people of Snap! Raise, who from the ground up have built one of the nation's fastest growing tech companies. Guests share formative stories, professional and personal aspirations, and strategies for pursuing success and fulfillment in all arenas of their lives.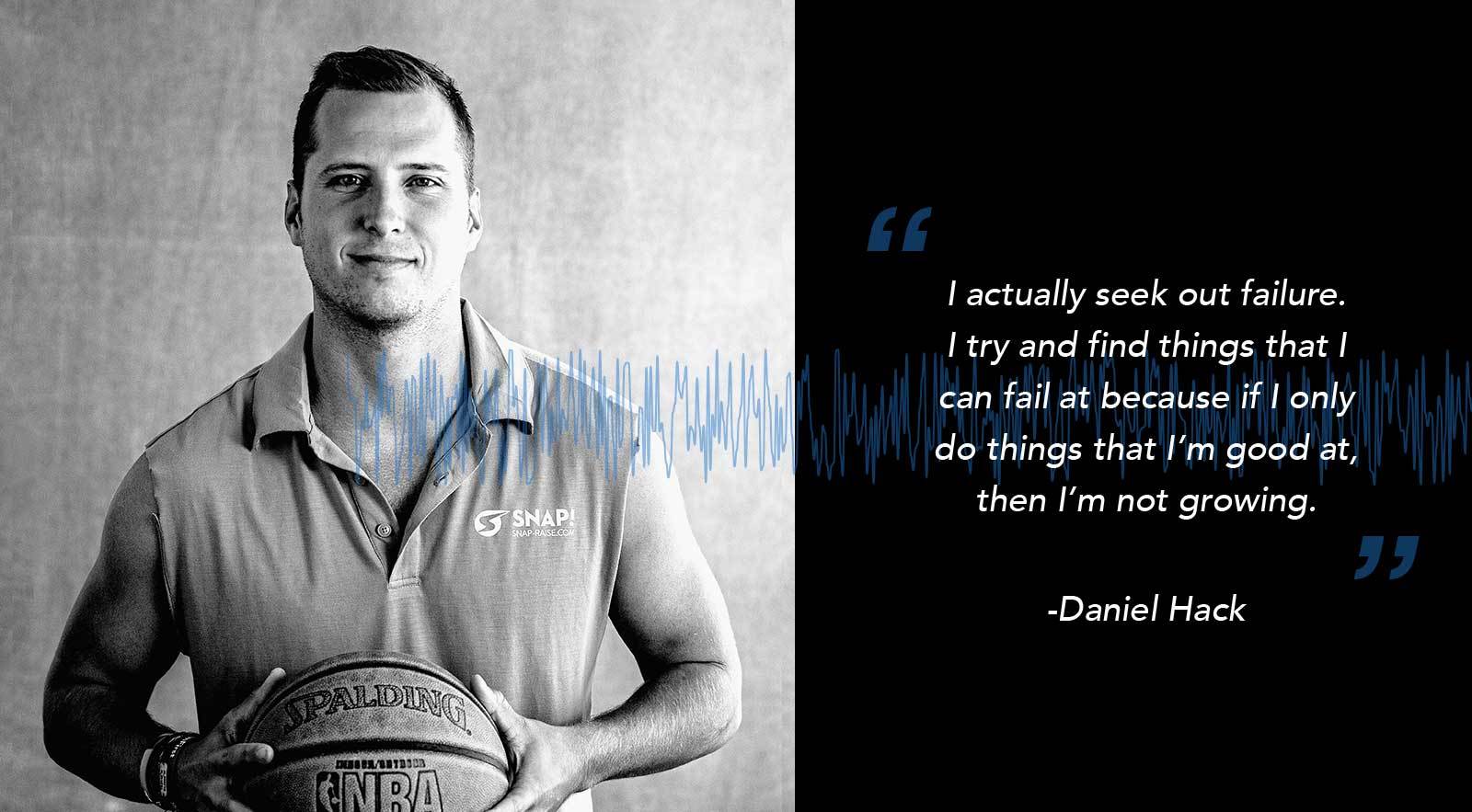 The half-hour episodes feature Snap! Raise team members from all of the country and cover topics large and small; for example, market development manager Marshal Peterson discusses his double-life as a professional rodeo roper, while Midwest regional sales manager Damian Schlereth shares the story of his adoption and search for his biological mother.

No matter the stories shared, every episode of Humble and Hungry centers around a commitment to community, authenticity, and continuous improvement. And behind it all is the podcast's host and mastermind, Matt Nickel.
Nickel, who joined Snap! Raise in 2015 as one of the company's first software engineers, says the inspiration for Humble and Hungry came from a team building exercise where members of the Snap! Raise product team would take turns sharing defining life moments.
"As people told personal stories of hardship and what they learned about themselves, we began to bond in a unique way," Nickel said. "I wanted to bring that experience to the whole company."
Since the podcast launched in December 2018, nine Snap! Raise employees have shared their lives on the airwaves – blasting fun facts with Nickel's "Rapid Fire Questions," offering intimate stories of some of the hardest points of their lives, and explaining what fuels their achievement.
Snap! Raise, though headquartered in Seattle, Washington, maintains a nationwide presence, employing representatives throughout the entire country. With members of the Snap! Raise team running fundraising campaigns across all 50 states, it isn't always possible to meet and work in-person with other employees.
But open and authentic stories, even if shared through an online radio show, can do powerful things.
In his Humble and Hungry feature, market development manager Justin Lafitte tells how his late grandfather's unshakeable commitment to his work as a missionary inspired him to ground his own life in a "defined identity."
"My mission field now is what I'm doing with coaches and kids every single day," Lafitte explains, noting that he feels most fulfilled when he is putting his all into the task at hand.
"Is my interaction with this person going to leave them feeling better or worse about themselves and what they're doing in life?" Laffite asks himself. "I try to keep that in mind constantly when I'm out in the field."
Though they had only met in passing prior to Humble and Hungry, Nickel (who works in Seattle) said that when he saw Lafitte (who works in Dallas, Texas) at Snap! Raise's annual winter clinic, he ran up and gave the market development manager a hug.
"I guess I felt like we were good friends after spending just an hour interviewing him," Nickel explained.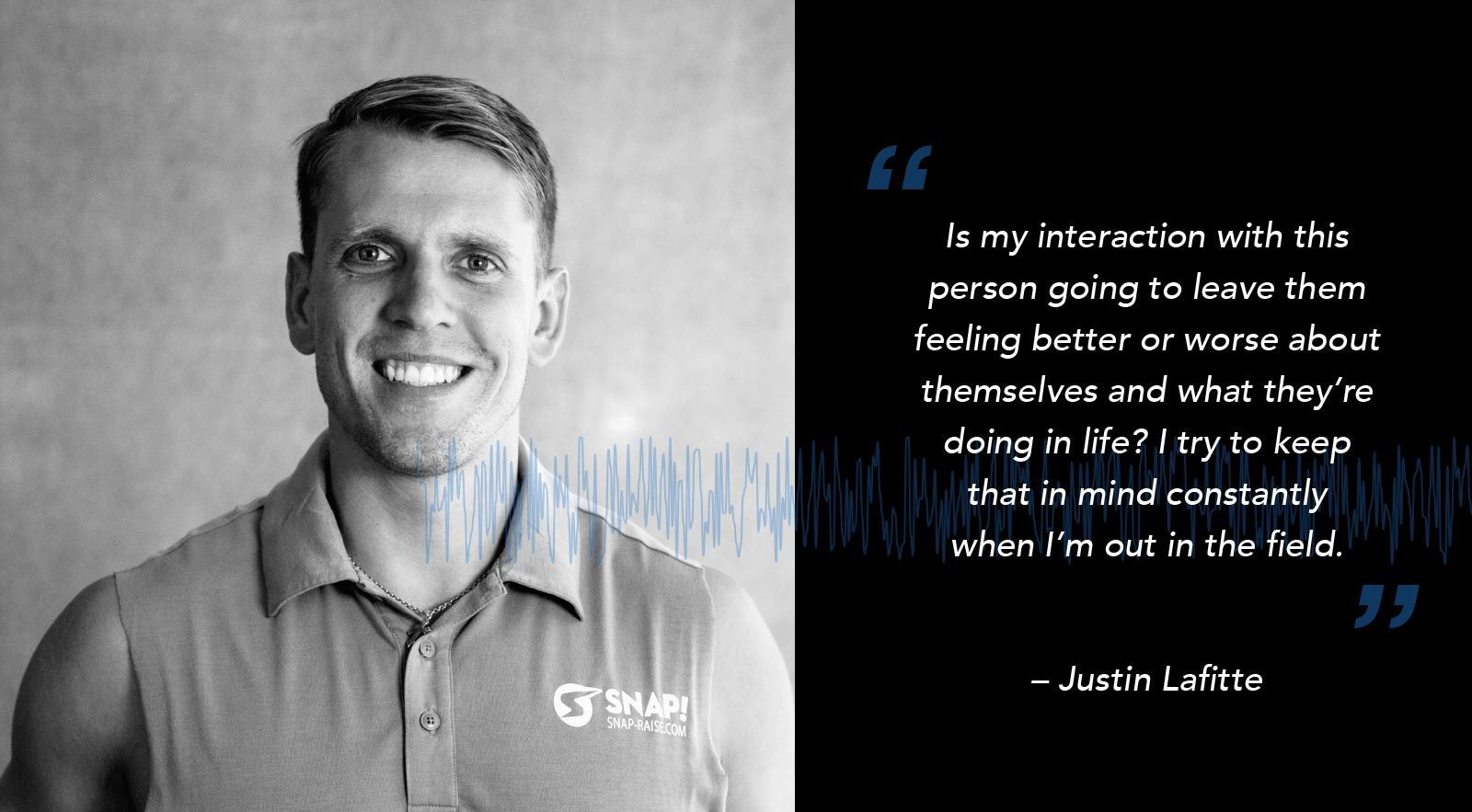 Receiving formative advice at a young age from a mentor is a recurring theme in Humble and Hungry. For Lafitte that mentor was his grandfather. For Cory Dunn – a market development manager based in Charlotte, North Carolina – it was his high school track & field coach.
"Finish through the line," Dunn's coach would say. But the coach was not just speaking about the kick at the end of the 400.
Dunn, to this day, holds onto lessons from his high school coach. "If you're going to start something, then finish strong," Dunn remembers him say. "Go through the line. Go through it fast and go through it hard."
Along with their defining life moments and personal stories, Humble and Hungry guests typically speak to their proudest achievements with Snap! Raise.
Dunn shares the story of a particularly special fundraising campaign, in which he helped a high school in the Charlotte area raise program-changing money.
The market development manager remembers that the high school's cheer coach was "broken up" about the inescapable factors that made securing funds for her team practically impossible. In order to simply keep the program afloat, she resorted to spending thousands of dollars of her own money. Though the coach felt like she had tried everything and achieved nothing, she agreed to run a Snap! Raise campaign for her team with Dunn. Hoping to raise $2,000, Dunn says that the coach was shocked and thrilled when the campaign raised nearly twice that much.
This few thousand dollars didn't just pay for stuff the team needed; according to Dunn, the money "changed their program forever." When the coach opened the check, a heartening victory in a seemingly-eternal line of losses, she broke down in tears.
As programs across the nation run fundraising campaigns with Snap! Raise, the impact seen in Charlotte is experienced again and again. The funds raised by these programs with the help of MDMs like Dunn and Lafitte represent thousands of individual transformations – treasured memories made, formative lessons experienced, and glorious victories won.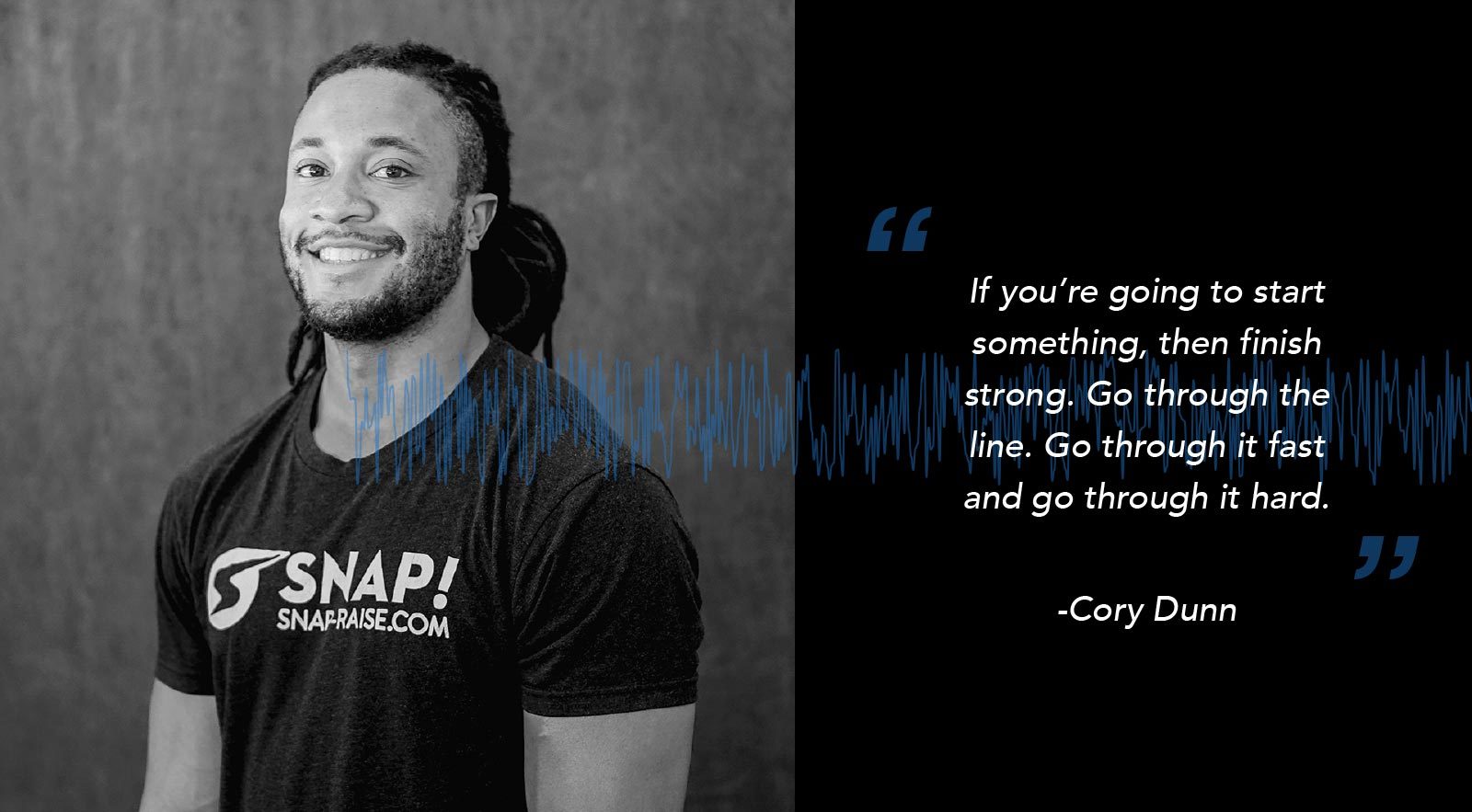 Having helped raise over $10 million for programs in the San Diego area, Hack has spent his years with Snap! Raise as a first-hand witness to the big impact of seemingly small transformations. And, as he shared in his interview with Humble and Hungry, he's transformed his lifestyle to maximize the impact he is able to make on others.
Hack told Nickel he wakes up at 4:30 a.m. every day, that he lives in a van in order to remind himself not to focus on his material success, and that he strives to make each day meaningful in order to make his late father proud.
Nickel said that after releasing Hack's episode, a slew of other Snap! Raise team members reached out, thanking Hack for his openness in sharing his story.
"Hearing your story really helps me have faith I'll get through my struggles and figure out how I can just better myself and know I'm making my dad proud, too," one market development manager texted Hack. "Really appreciate who you are and how much you care about those you love."
Another team member reached out to Hack, saying the episode was "probably the most vulnerable, touching podcast I've ever heard."
Snap! Raise, at its essence, is a community of passionate people working to serve other communities of passionate people. We are deeply committed to achieving our goals and helping others achieve theirs. Humble and Hungry is the perfect testament of that commitment.
You can find Humble and Hungry on iTunes, Spotify, Google Play, and TuneIn.
Are you humble & hungry and want to make an impact in your community? Find your fit with Snap! Raise!
See open roles