Scout out the coveted five-tool high school baseball fundraiser that's easy to run, fields more support, raises your average, powers your season, and throws product fundraisers out the window.
There's no way around it – baseball is one of the most expensive team sports there is. After all expenses are accounted for, a single season of high school or travel team baseball can cost anywhere from $4,000 to upwards of $10,000 per athlete.
The costs can add up fast for athletes and their families, especially if the program is unable to cover the full costs.
Here's a few of the most common individual baseball expenses and their approximate costs:

• Uniforms (tops and bottoms): $150-200
• Batting helmet: $50-90
• BBCOR Aluminum bat: $400-450
• Baseball glove: $200-360
• Team cap: $15
• Baseball spikes: $90-100
• Catcher's gear: $250-350 (The catcher's helmet can go for upwards of $90 alone)
• Batting gloves: $35
• Spirit pack (practice uniforms, wristbands, workout t-shirts and shorts, etc.): At least $200
• Miscellaneous equipment (EvoShields, etc.): $30-40
• Elbow and shin protector: $50-100
• Sliding shorts: $40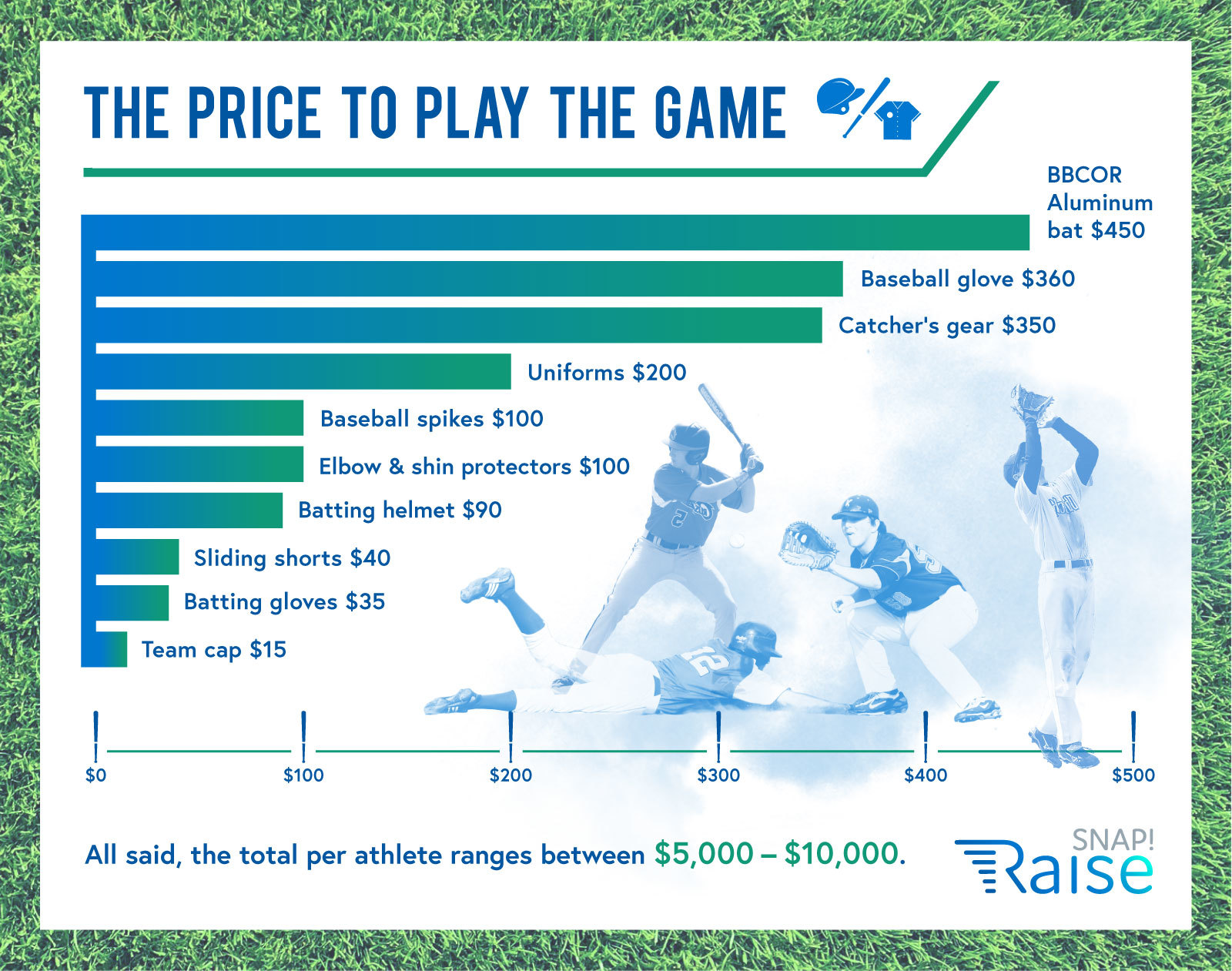 Of course, the list above doesn't even get into equipment, like pitching machines and batting cages, field improvements and upkeep, and of course, travel. Every program has to make regular trips to away games, while travel to tournaments can be an overwhelming expense especially for club and select teams.
Baseball fundraising is inevitable. So why not raise money in a way that puts your program first?
Snap! Raise is the premier baseball fundraiser built to help your program raise more in less time than ever before. Its proven process allows your team to effortlessly connect to everyone who makes your baseball community special, resulting in an efficient, hassle-free fundraising experience.
That's why baseball programs have raised a total of $19 million using the Snap! Raise platform since 2014, with the average baseball fundraiser receiving around 100 individual donations. That adds up to over 90,000 athletes supported at the high school, middle school, and club levels across the country.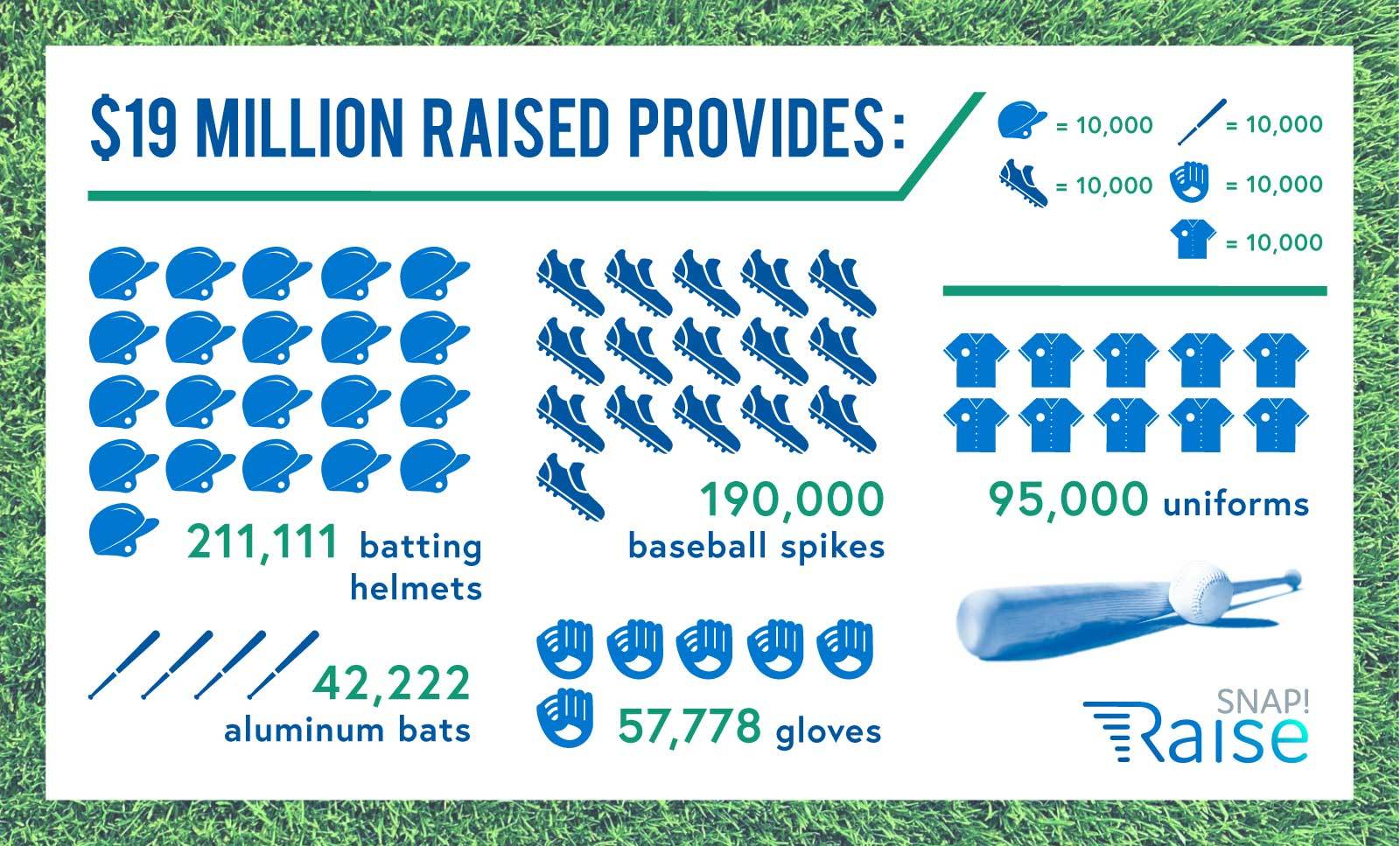 Snap! Raise makes it easy for your biggest fans all over the nation and world to connect to their team by allowing them to simply and quickly donate to your fundraiser. No discount cards in the way, no mountain of cookie dough they probably won't eat, no car wash they must carve out time to attend.

Elevate your program with the 5-tool fundraiser built for success. Start a winning baseball fundraiser with Snap! Raise today!
Start a fundraiser
Snap! Raise allows you to magnify the impact of your fundraiser, allowing your athletes to reach their biggest fans – whether they live on the other side of the neighborhood or on the other side of the world.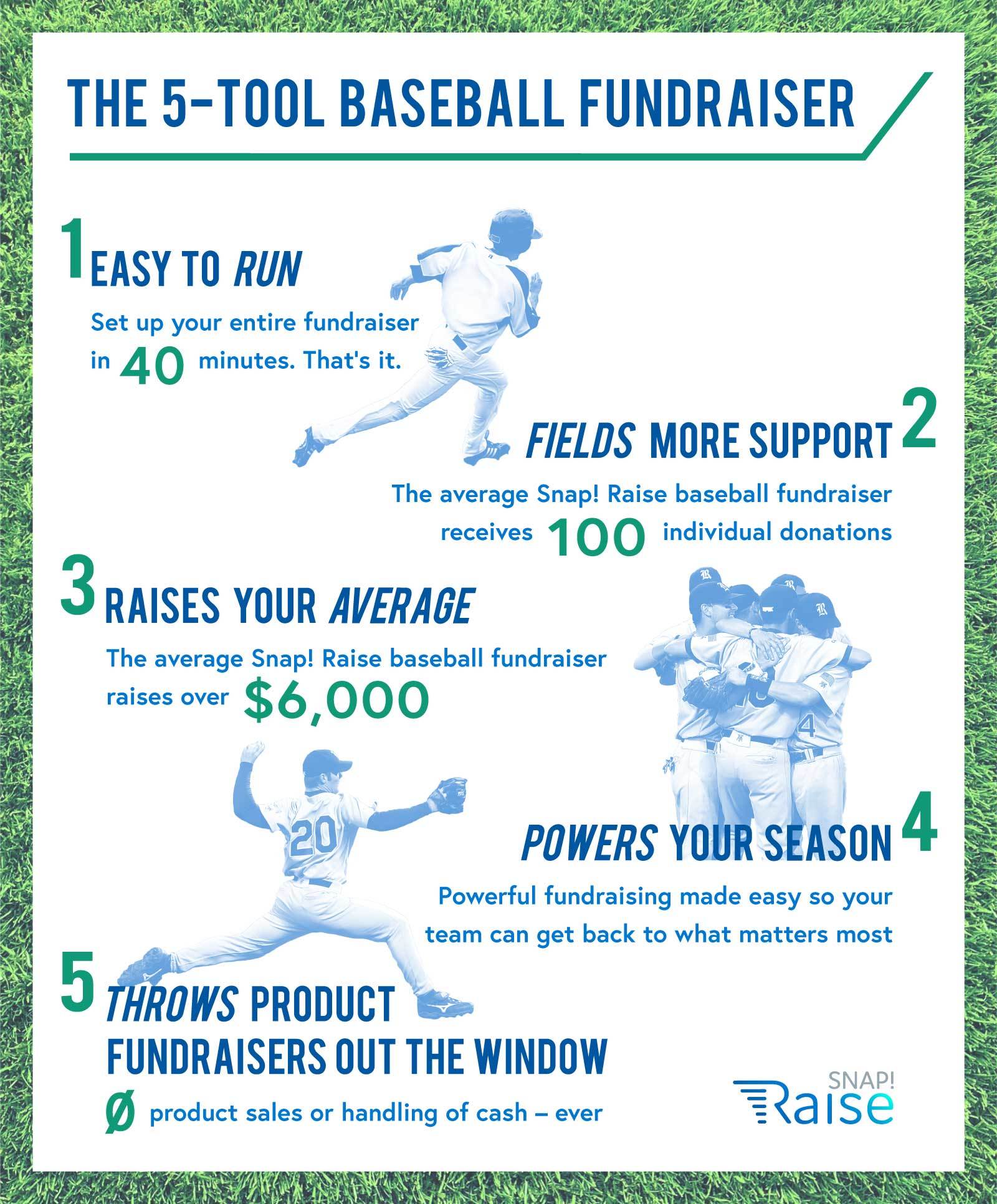 What's more, Snap! Raise's online platform breaks through the limitations that busy schedules and physical logistics place on traditional baseball fundraising. A student only has so much time between classes, practices, games, eating, and sleeping to hawk discount cards.

It would take hours of footwork to knock on 40 doors and potentially days of scrubbing to wash 40 cars. In that time, with Snap! Raise, you could connect to hundreds more people (and reach people whose front door you could never knock on – unless you feel like trekking all around the nation).
"We decked the entire team out, Freshman to Varsity."
- Coach Joe Weber
Christopher Columbus High School, FL
$64,000 raised with Snap! Raise in 2018
Baseball may be a game steeped in tradition, but your fundraising methods don't have to be. Your team can raise the money it needs to perform at the highest level without slogging through another painful product fundraiser with underwhelming results.
Start a hassle-free baseball fundraiser
$19 million raised by baseball teams
90,000 students supported
40 minutes to set up a fundraiser